IMAGES BY NICK EDARDS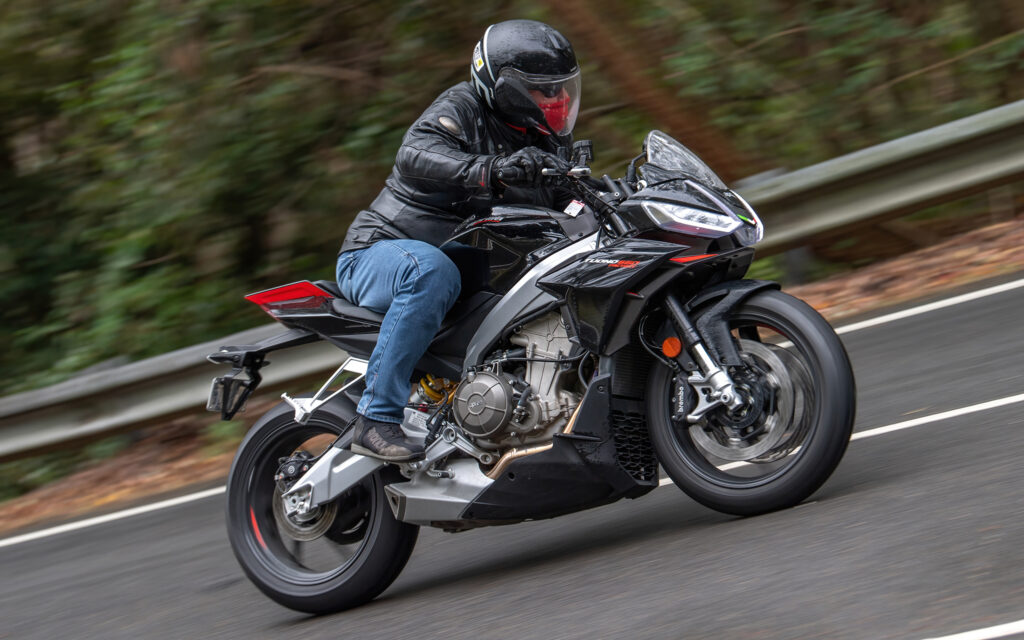 You know how parallel twins are now the hot chick in the room, right? Yamaha kicked it all off some years back with the MT-07, and within a few years everyone was busy shoving their versions of the 270-degree-cranked mid-sized upright-twin onto the market – the most recent being Honda's CB750 Hornet.
The whole point, I assume, was to offer a new generation of riders milder-mannered bikes…um, presumably because they spook easy when confronted with 1000cc of weaponised motorcycle. Or something.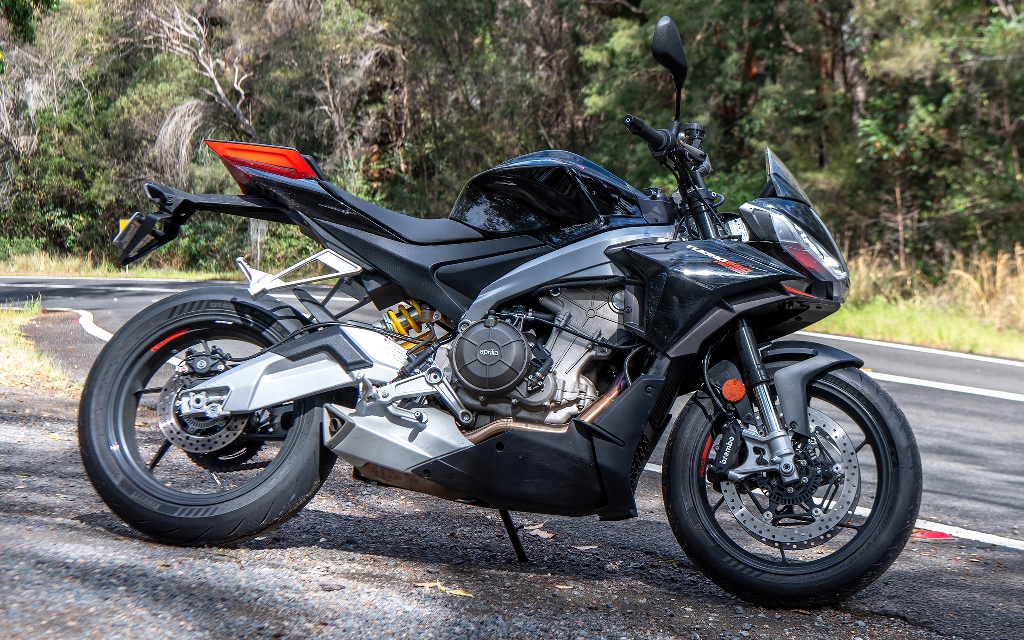 So out they came. Light, agile, torquey 700s and 800s. They sounded OK thanks to the crank being spun around, and they were a hoot to hammer through the bends precisely because of what they were.
All of them made around 70-80 horses, give or take. All of them felt a little too…well, compact for a man of my size. And there are lot of men who are of my size. Must be due to all the good steak we have to eat. Look what happened to the appalling Dutch when they went to South Africa and copped a few generations of sunlight and fresh meat.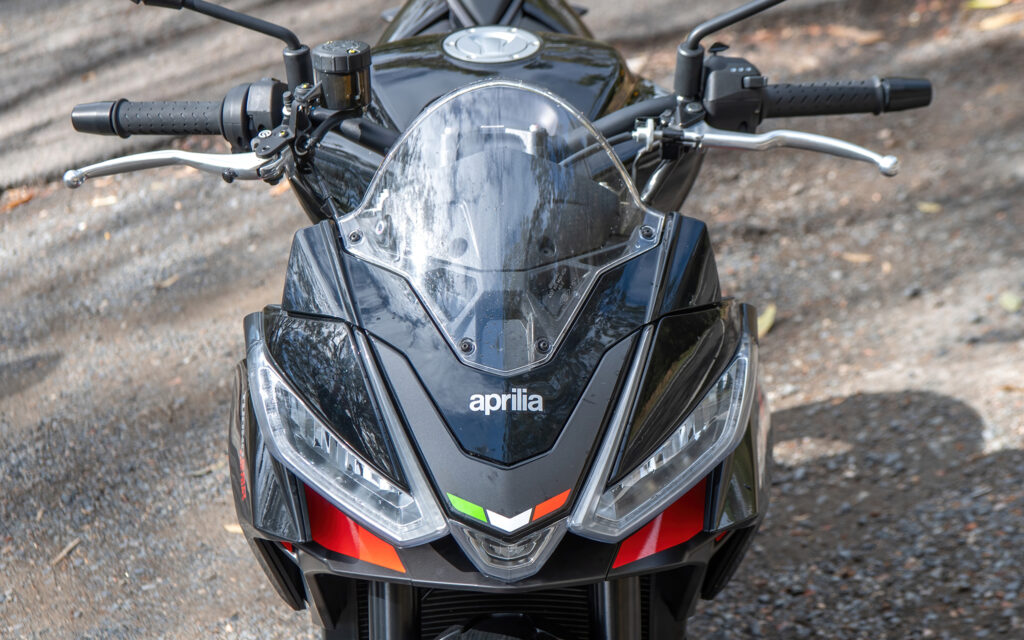 So men like me looked at these mid-sized offerings and considered them as viable second bikes to maybe go to work on, or bikes for our wives and girlfriends, or maybe something our kids could get onto if there were LAM versions. We liked the hell out of them, but we wouldn't buy one as our only bike lest our testosterone levels dropped dangerously.
Enter the Aprilia Tuono 660 Factory.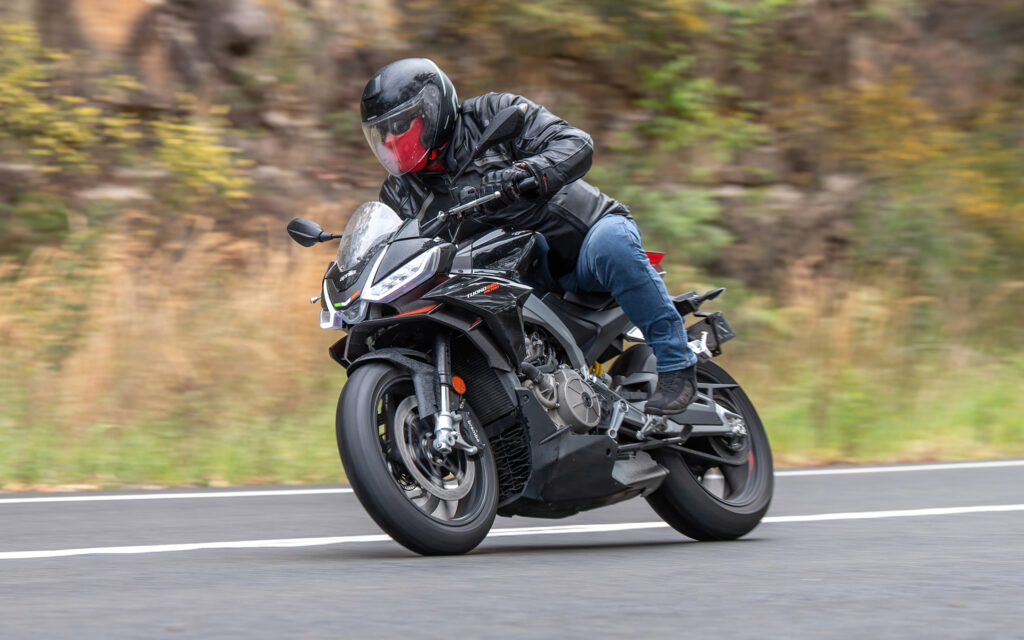 If you've read my stuff for any length of time, you'll know I hold Aprilia's offerings in very high regard, and when the paisans in Noale append the word "Factory" to any of their bikes, I feel like swooning. Go ride a Tuono V4 Factory or the 217hp RSV4 Factory and tell me you don't feel like fainting when you get off.
These same paisans, some of whom are doubtlessly wicked sorcerers with scant regard for established norms, have created a new, smaller capacity Tuono Factory – 659cc to be exact, so it's indeed smaller in capacity than its competition in this niche – and it makes 100 horsepower. And 67Nm of torque.
Which is a really cool way of thumbing one's nose at the competition, is it not?
And the bike itself feels of a proper manly dimension. It does not feel shrunk in any way. Sure, it's still remarkably light (181kg wet), and Aprilia would rather burn in Hell than offer its customers a bike that wasn't the cutting edge of handling and loaded with top-end suspension and brakes. So any fool that tells you this bike is somehow "uninspiring" or lacks some "wow-factor", clearly has no idea just what an exercise of utter mid-sized brilliance the Tuono 660 Factory actually is.
Yes, it is a little more expensive than the bikes it is up against. But so what? Save up some more. Motorcycles should never be a rational purchase choice dictated by fiscal considerations. People who buy bikes because they're at a certain price-point have no soul. You want to be happy? Buy the bike that makes you happy. Not the bike you have to buy because you didn't save enough money, or spend too much on crap like girlfriends, food, and rent. Make sacrifices.
And if you want something bad enough, you will find a way to get it. It's how this shit works.
The Tuono 660 Factory is, put simply, the King Daddy of the mid-sized twins. It sounds glorious. It looks fabulous. It's ridiculously Italian in its road-manners, and more than a little bit special in all the ways a bike should be special – mainly by making you feel special.
The quickshifter is standard, there's a Lithium battery that shaves a further two kg from its weight, and you can have hours of fun taunting your missus that what she sees is the actual pillion seat. The pillion seat is under the cover, but the cover has a pad in the middle and two very evil-looking flanges that would spike a pillion in her soft thigh meat.
And the induction how…blessed saints of Noale…this is the music of our people.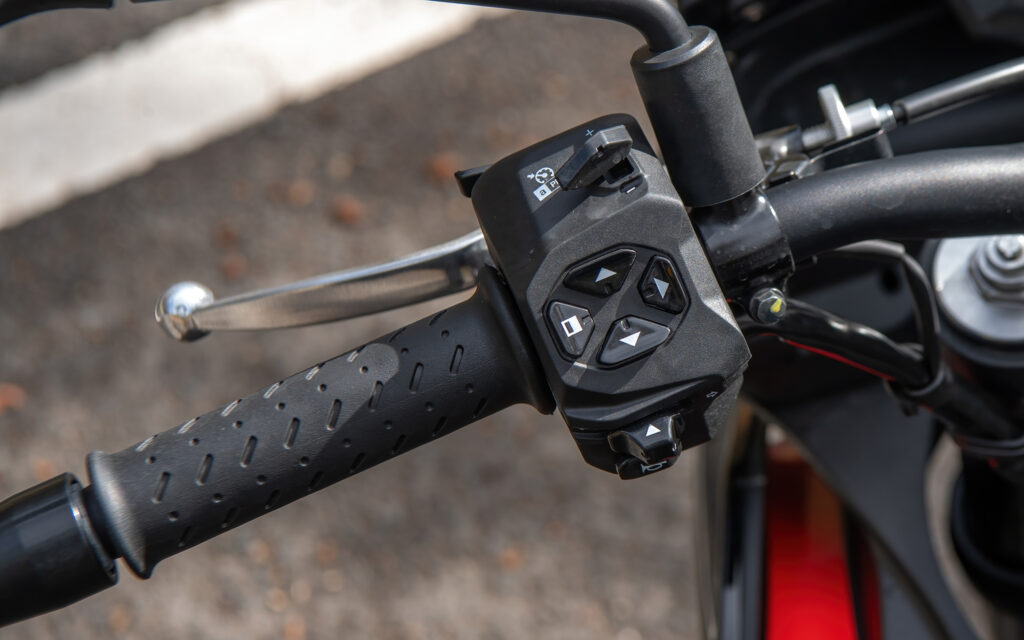 Yes, all the electronic whizzbangery, like cornering ABS, is there. It has to be. It's 2023.
That lovely TFT dash is certainly lovely, but, as usual, everything built by Piaggio that involves menus and sub-menus, requires patience and perseverance to navigate. It may well be the way "character" is injected into their machines these days and it beats the crap out of "Why is there smoke coming from my wiring loom?"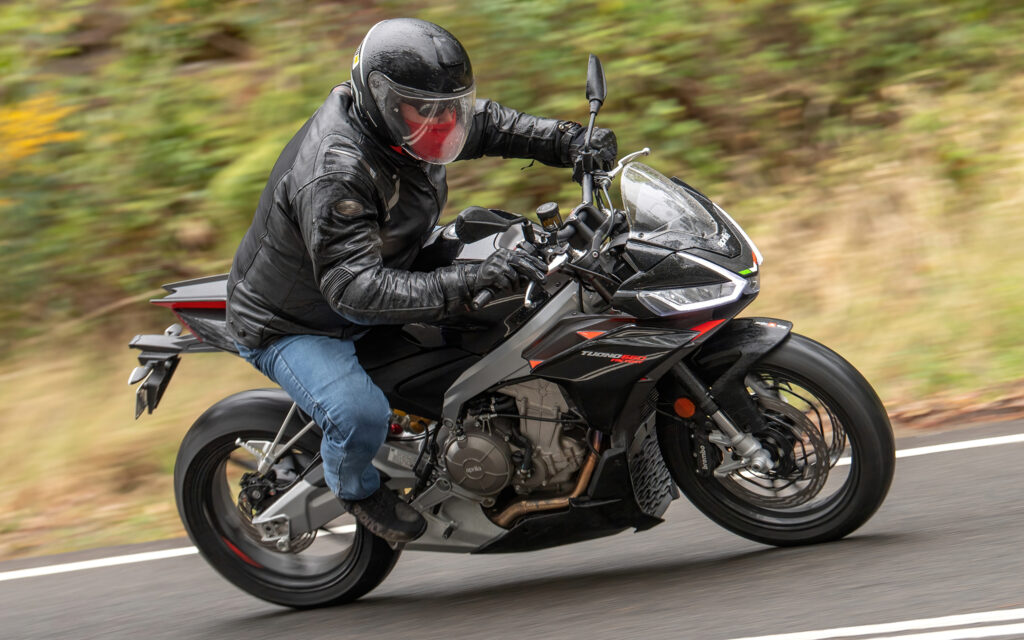 And it's hardly a biggie, unless you're some kinda weird trainspotting anorak. Set the thing up once. Leave it there. Get on with your life. Sheesh.
The riding of it is where all the silly joy-joy is.
And it really is quite the rider's bike. There's no relying on massive grunt or power to address your shortcomings in the corners. Late braking, massive corner speed, face of Jesus, on the gas hard out of the corner…and repeat. It will take your breath away.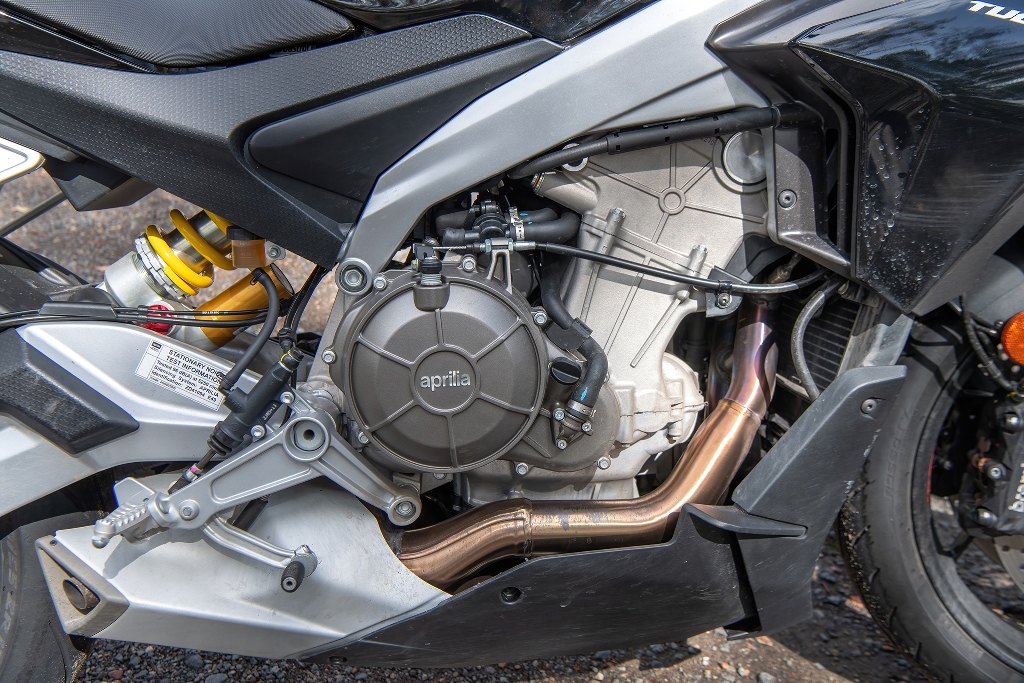 Line changes are possible with a seeming thought. The package is hugely responsive, and the more finesse you apply, the more it will reward you. Start climbing all over it like a ham-fisted baboon, picking the wrong gears, and panic braking, and it will sniff dismissively at you.
The Tuono 660 Factory insists you apply a modicum of skill to your inputs. Of course, it forgives many indiscretions, for it is well-mannered, like its big brother…which is actually a throat-cutting, moon-howling psychopath of bike, to which only serious people need apply.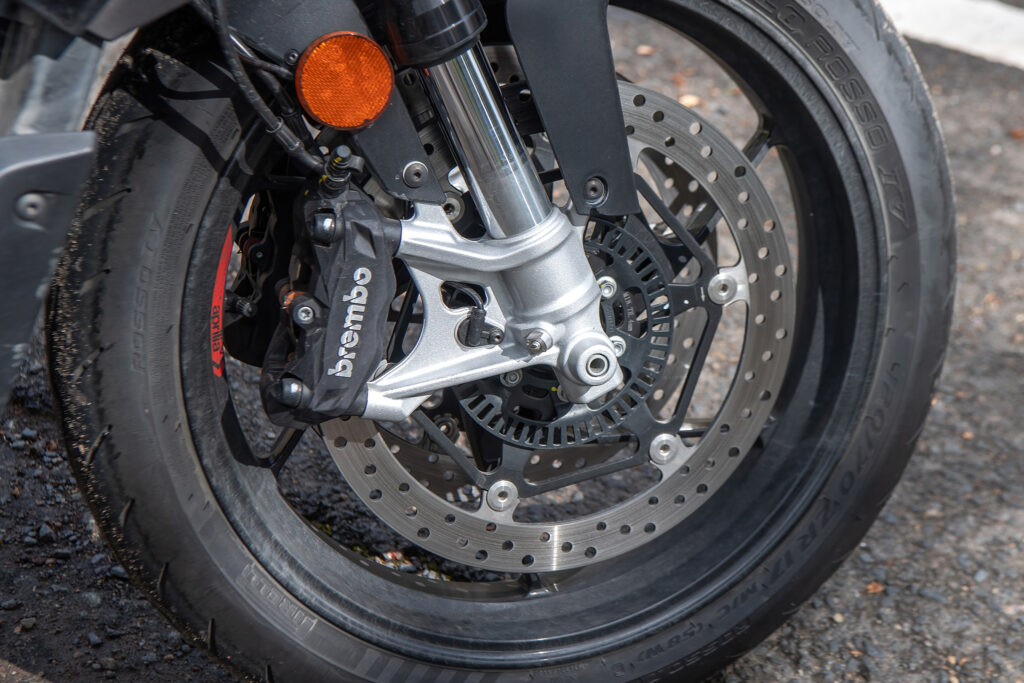 The 660 is far, far more approachable. Which is exactly the design-brief of these mid-sized offerings.
It's just that Aprilia's offering in this class is more than just a little bit special.
And rightly so.
SPECS
DONK
Type: Liquid-cooled, eight-valve, four-stroke, DOHC parallel-twin
Capacity: 659cc
Bore x stroke: 81.0mm x 63.93mm
Compression ratio: 13.5:1
Engine management: Electronic fuel inection
BANG
Power: 100hp (74kW) at 10,500rpm
Torque: 67Nm at 8500rpm
CLICK
Type: Six-speed
Final drive: Chain
Clutch: Wet, multiplate
BUMP & GRIND
Frame: Double aluminium beam
Front suspension: Upside-down 41mm Kayaba forks, fully adjustable, with 110mm travel
Rear suspension: Sachs monoshock, adjustable for preload and rebound, with 130mm travel
Front brakes: Twin 320mm discs with Brembo four-piston radial-mount calipers, Cornering ABS
Rear brake: 220mm disc with Brembo twin-piston caliper, Cornering ABS
HEFT
Wet weight: 181kg
Seat height: 820mm
Wheelbase: 1370mm
Fuel capacity: 15L
HOW MUCH? $22,690 ride away
Subscribe and get to see the real spicy stuff and much more
Check HERE to see what you get
Alternatively, Tip me without subscribing if you enjoy my work.
Or Via Paypal