The 2023 Fat Bob is, from some angles, a strange-looking beast. In some respects, it's like Harley felt it needed a flat-tracker-looking bike in its range, but felt that flat-tracker should get jacked up on horse-steroids so it could punch people in the face.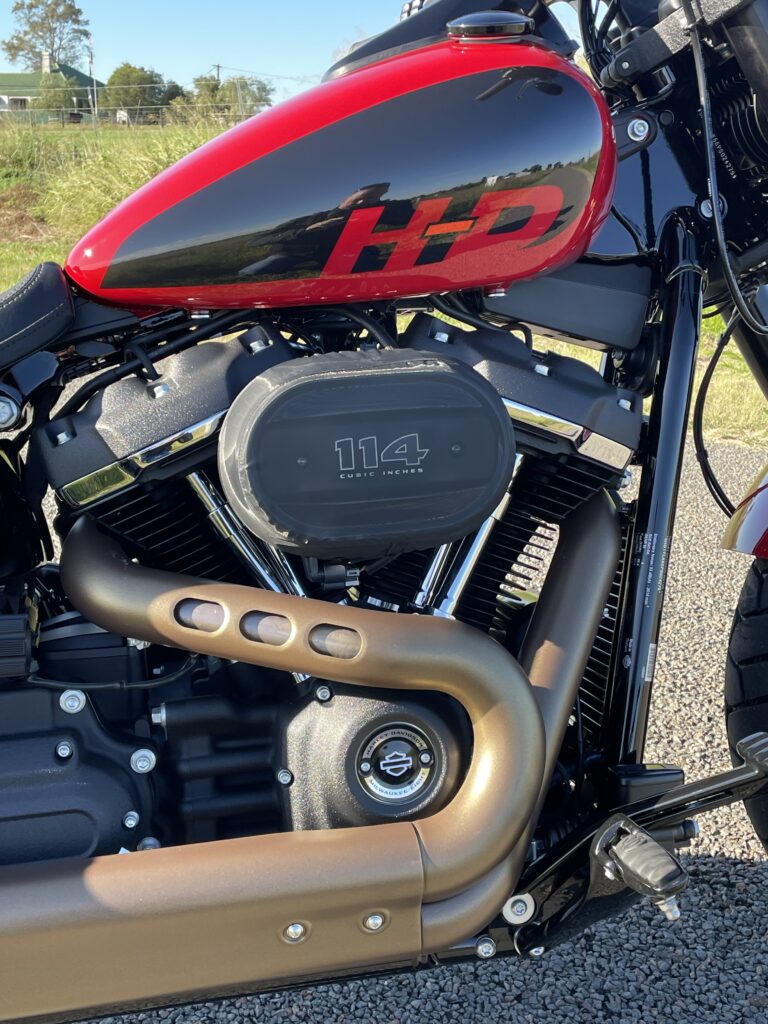 I initially wrinkled my fine aquiline nose at it. I had just got off the outlaw sex-express (2023 Breakout), and here was this fat-tyred hog-a-saur with its Futurama headlight, all swole and sassy. What was its business all about then? I thought, not having ridden a Fat Bob for a year or two.
Personally, I quite like the Bender-face headlight. And the Fat Bob does have its very own unique look going on – from it's twisted bronze-hued pipes, to the somewhat aesthetically compromised back-end, which our ADRs have insisted needs to sport a hideous slab of bracketry that places our numberplate behind the rear wheel so it can be photographed easier. The US model has a side-mounted plate, which tidies that back-end up quite a bit.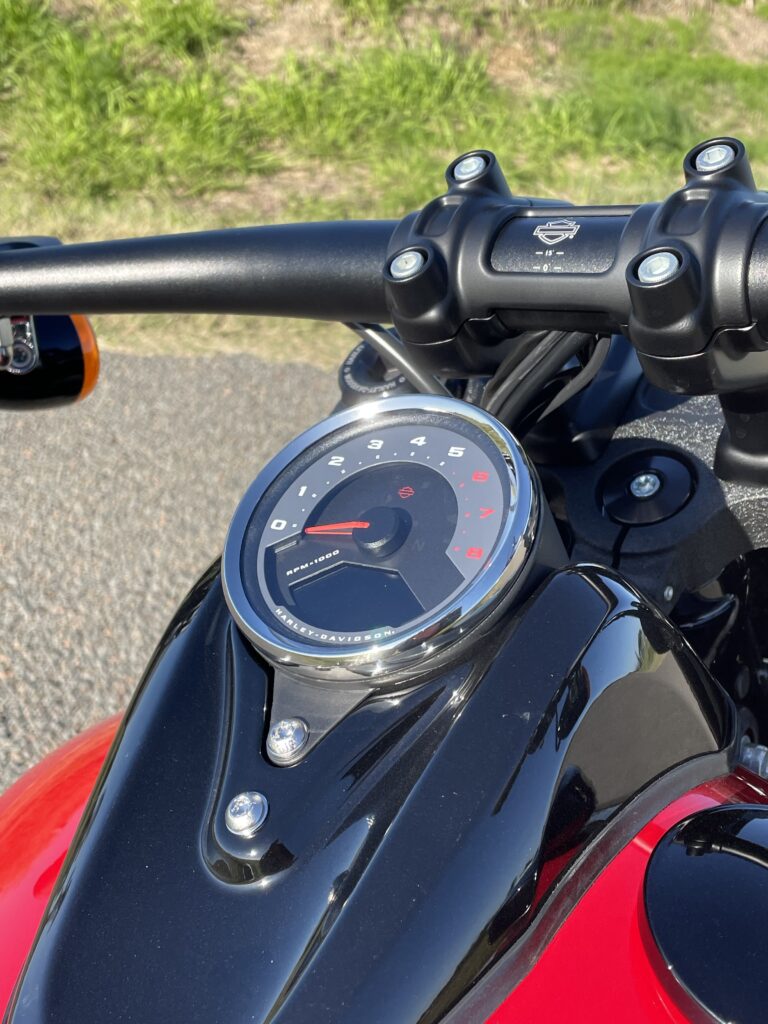 And them fat-girl tyres with the pseudo flat-track tread, and twin-discs…to me, it looked all the world like a giant, 'roided up flat-tracker ready to awe all of God's children at the Saratoga Mile with roost and thunder.
Was this a bad thing? I got to thinking it wasn't. The Fat Bob is the kind of Harley I'd ride with a skinned wolf on my head. I would have to expand on my neck tattoo, but so what? It's not like I'm employable with or without it.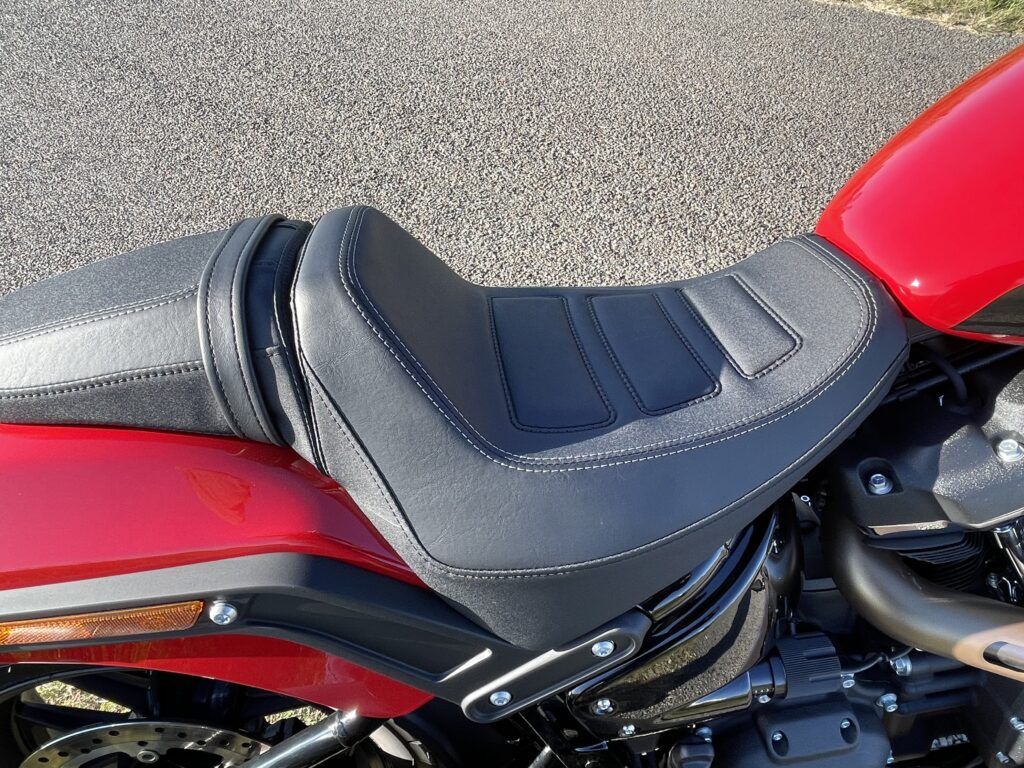 And it's a nicer bike to ride than the Breakout, which makes physical demands on you that preclude touring or long hours in the saddle. The Fat Bob has mid-mounted controls, a big-ass seat, and flat, wide 'bars, so it's a dab hand at big-kay days. Sure, you have to tilt your head down to see the instruments, but you'll get used to it. No, it's not ideal. But neither is life.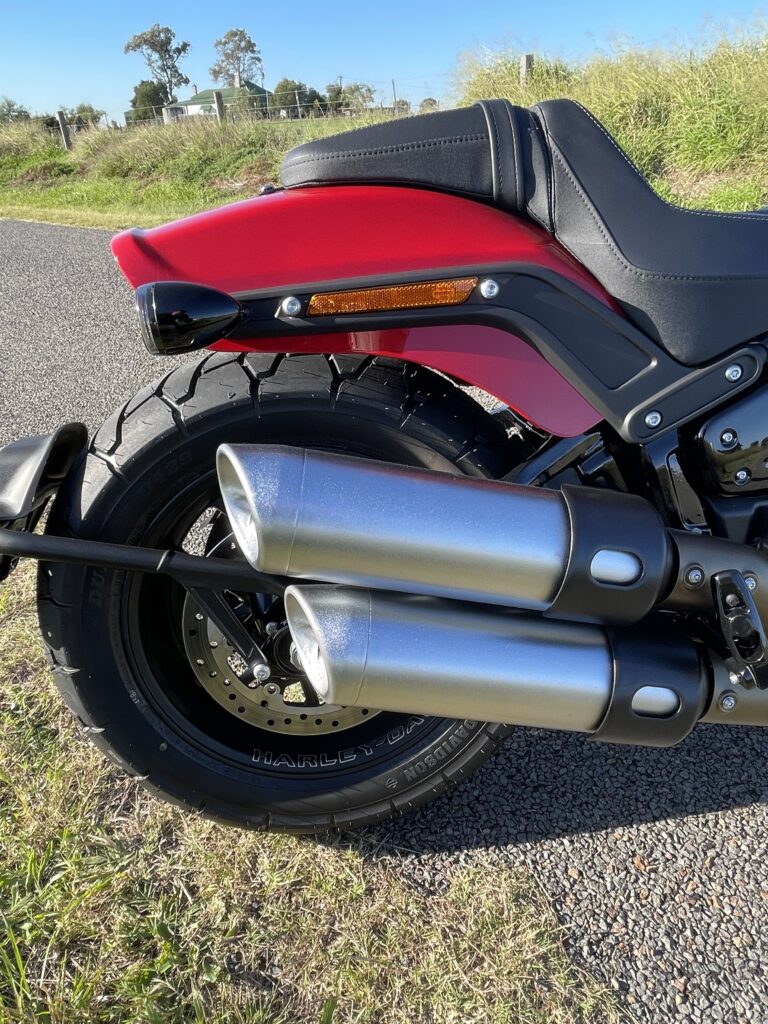 I'm good with the 114-cube-motor. It's always seemed livelier around town than the 117 version. And I'm thinking a lot of these numbers are for bragging rights. Because let's face it, once you wind these big eagles up over 160, and are nudging 180, your world is so staggeringly exciting and unpredictable, you'll soon realise you don't need no 200 horses to scare yourself stupid.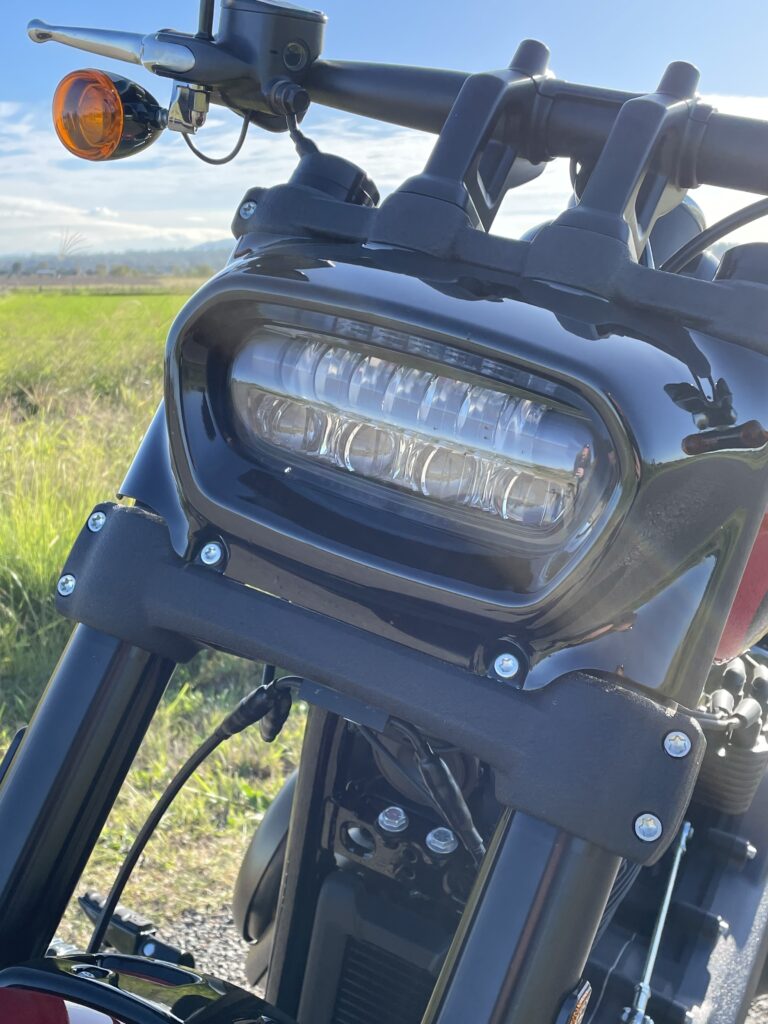 You wanna make your shit really crazy? Go get one of them 135-cube crate engines Harley keeps in a dark room away from children. That'll make your eagle scream some.
But 140km/h off the stock 114? Brother, all day every day.
I thought the red paint with the black insert was very slick, but there are grey and black versions on offer. Get the red. It's sassier.
And that's what the Fat Bob said to me. "Get your sass on, boy." And hell, if I was younger, I'd listen and obey. This is the Harley you'd be wheelstanding while hot bitches flung tiny panties at you. The kind with little diamantes sewed to them so you'll know they're quality ladies. There's just that kind of fine mongrel to the Fat Bob.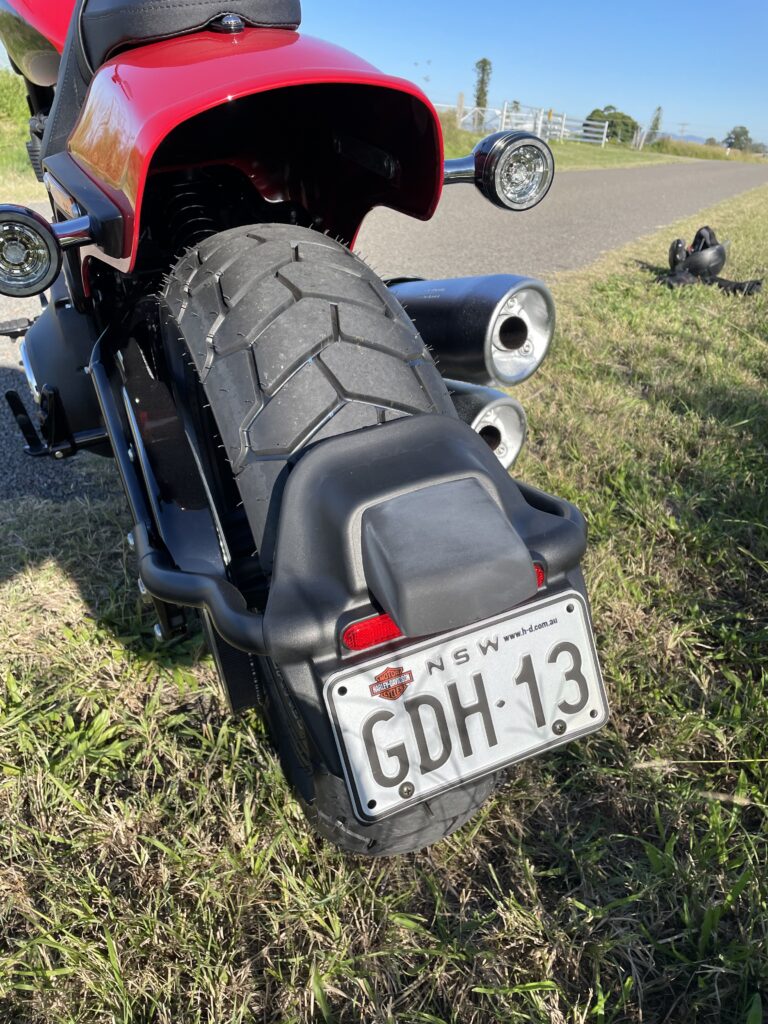 It's surprisingly agile, and while I understand and accept that something with tyres this fat, sitting on 16-inch rims, and boasting 30-odd degrees of lean-angle isn't about to compete for a podium with an S1000RR, it's no slouch if you know what you're doing.
And I loved its simplicity. There are no engine maps, or menus, or deep computer voodoo you need to cope with. Just dial the rear pre-load up a touch (or a lot of you're a big hoss), and start frying them bags like you got a pair.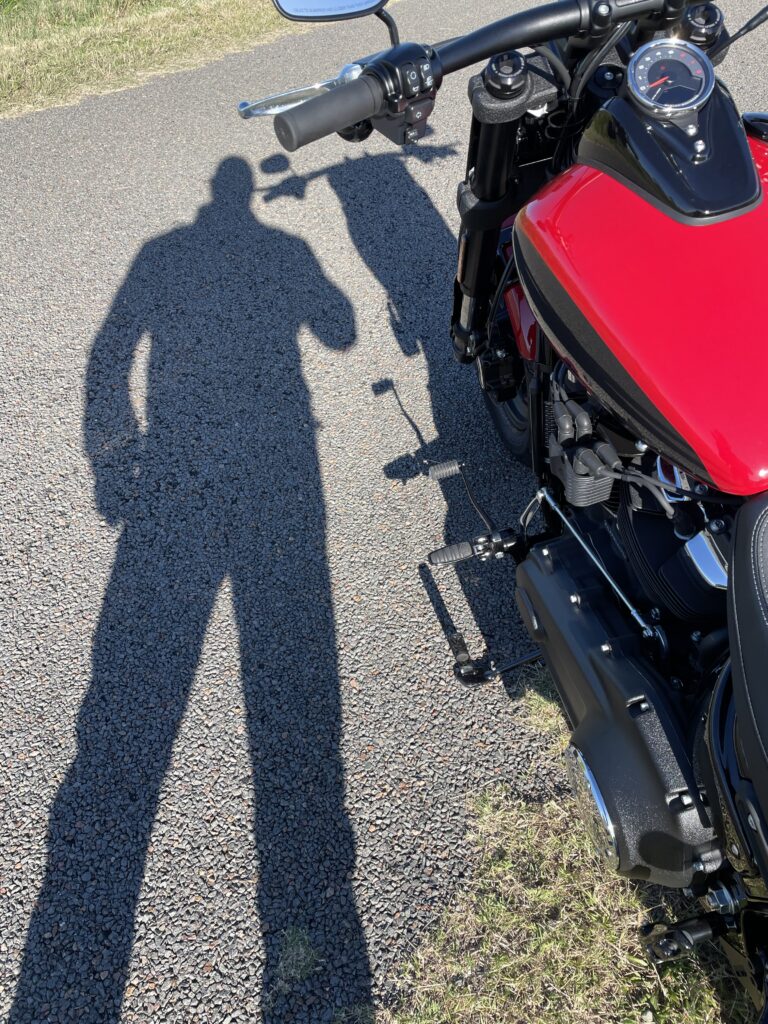 I think this simplicity is a great part of Harley's on-going appeal. Lots of people just like the almost neolithic mien of these bikes. I am unashamedly one of them. I can ride one fast enough to thrill all sorts of inner liquid out of myself, and no-one with a functioning cortex would ever mistake me for a HOG member. So I can rock a Fat Bob the way it's meant to be rocked.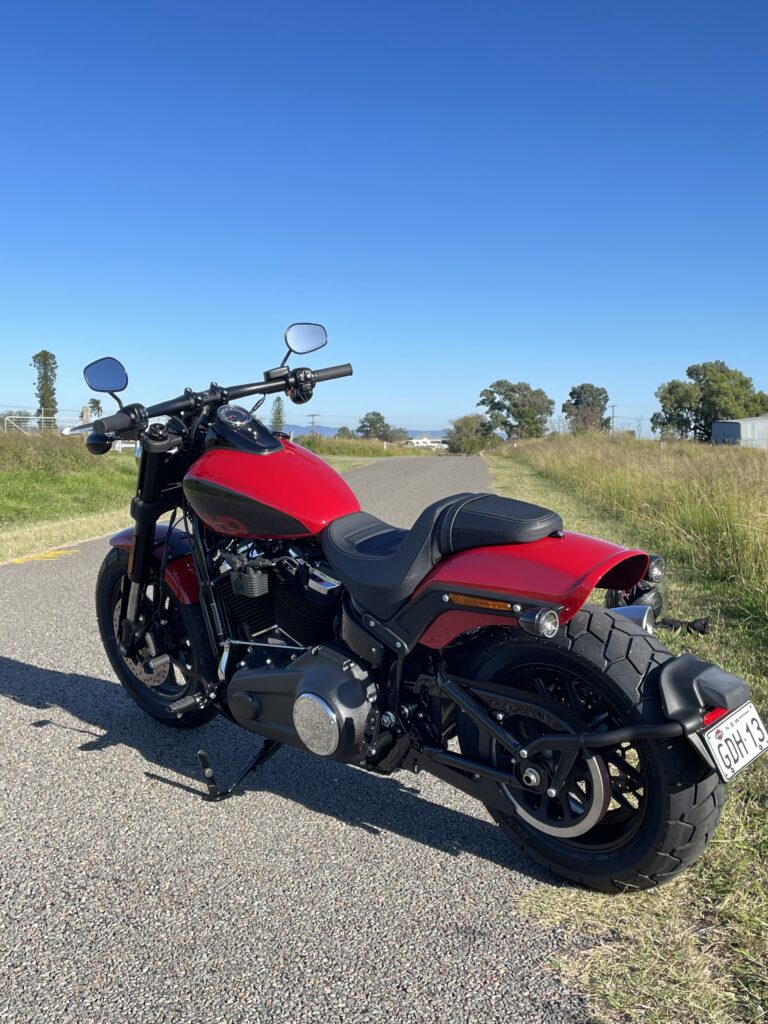 And the more time you spend on it, the more you come to realise the Fat Bob is indeed meant to be rocked a bit. I spent a pretty joyful two weeks doing that – and plaintively wishing we actually had bars in this country that played country music, free-poured bourbon, and let you punch people who sass-mouthed you without calling the cops.
You see, that's the movie that invariably plays in my head whenever I ride Harleys. I think it's the movie that must play in your head when you ride them. Because that's what they're all about. That's why they make them the way they do. Milwaukee ain't stupid. It knows what it knows.
The Fat Bob made me grin a lot. It's a well-mannered, but loaded with brute simplicity and purpose. A bit like myself, I guess. And like does attract like from time to time…
ALL THE SPECS AND PRICES ARE HERE…
Subscribe and get to see the real spicy stuff and much more
Check HERE to see what you get
Alternatively, Tip me without subscribing if you enjoy my work.
Or Via Paypal